MALOFIEJ 18 [SUMMIT]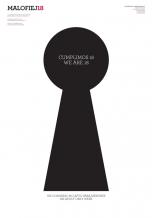 Malofiej 18: Program and Registration
The eighteenth edition of the Malofiej Conference is coming. The following is the conference programme plus the registration form for the conference. The Summit will end this year with a tribute to Fernando Rubio, Illustration Directorof ABC, recently deceased, consisting of an exhibition of his work and a lecture by Javier Sicilia (Friday 12, 18.00h. School of Communication at the University of Navarra) .
As you may be aware, Malofiej 18 consists of three parallel activities. The professional workshops "Show Don't Tell" and "Interact, Don't Show" will run from the evening of Sunday 7 through noon Wednesday 10. The opening of the conference will be on Sunday, at 8 PM, in the Hotel AC Ciudad de Pamplona. The working sessions will be held on Monday 8 in the Social Sciences Building of the University of Navarra. Workshop instructors, returning again from last year, will be John Grimwade, Director of Information Graphics at Conde Nast (USA); Juan Velasco, Art and Graphics Director for National Geographic magazine (USA); Geoff McGhee, former Multimedia Editor of NYTimes.com and LeMonde.fr and presently professor at Stanford University (USA), and Alberto Cairo, Professor of Infografics and Multimedia Journalism. The first activities planned for the program will explore the work of sculptor Eduardo Chillida. Participants will visit the Chillida-leku Museum, near San Sebastian, and will later participate in creating a graphic inspired by the guided tour there.
The Global Summit will begin Wednesday, 10 March at 8 PM in the Palacio del Condestable, a palatial sixteenth century manor located in the heart of Pamplona. At the inauguration the book from Malofiej 17, which includes the award-winning works from last year, as well as several articles and interviews, will be presented. A welcome cocktail will be offered to participants.
The sessions will take place Thursday and Friday in the Social Sciences Building of the University of Navarra. Confirmed attendees include: Hannah Fairfield, Infografics Editor at The New York Times (USA); Lukas Kircher, Executive Creative Director of the German company KircherBurkhardt; Thomas Molén, visual journalist at the Swedish newspaper Svenska Dagbladet; Scott Byrne-Fraser, Creative Director of the on-line edition of the BBC (United Kingdom); Alvaro Valiño, Graphics director of the Madrid newspaper Público; Kaitlin Yarnall, Researcher in the Maps Division of National Geographic (USA); Svetlana Maximchenko, Head of Publisher at the Russian newspaper Akzia; Manuel Canales, Coordinator for Infographics at Costa Rican newspaper La Nación; Alexander Rojas, Infographer at the Colombian newspaper El Tiempo; Francesco Franchi, Art Director for the Italian magazine IL, which is published alongside the newspaper Il Sole 24 Ore; and Jan Schwochow, Director of the German infographics agency Golden Section Graphics.
The jury for the Malofiej 18 International Infographics Awards will meet in the days prior to the Summit. The award winners will be announced during the closing dinner on Friday 12 March, when the awards will also be presented.