OBITUARY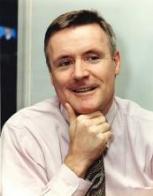 John Monahan, by Miguel Urabayen
I regret very much the unexpected death of my friend John and I send his family my condolences for the death. My sadness, I am sure is shared by all who knew him and appreciated his human and professional value.

Our friendship began at the Poynter Institute, as many others. Continued in Spain, in the School of Communication at the University of Navarra where he and Jose Font, from the St. Petersburg Times, gave a seminar on using the -then- new Macintosh SE. It was in 1988 if I remember correctly, and they showed how useful it could be. The forty-odd attendees at the seminar, future Graphics Directors at Spanish newspapers and magazines, saw the graphic possibilities of a computer. In the following years and in models more powerful would be its main tool.

John returned to Pamplona in 1993 as one of the judges of the first edition of the awards Malofiej, organizad, as the seminar, by Juan Antonio Giner, then Dean of the Faculty. From there, we were often taking advantage that every year I was at Poynter as Visiting Professor and passed, sooner or later, to New York where he worked at the Associated Press (Graphics Director). We felt addiction for books and his home in Norwalk, Connecticut, was only minutes drive to some large branches of the great libraries of New York.

Since my first trip I met his wife, and when they arrived, his two sons who I assume will be so high and strong today as it was his father. I will always be grateful to John for receiving me as a member of his family first to Washington and later in Connecticut. It is very sad to know that he died but the memories remain.

Among them the ease to draw. He always carried a notebook in his purse, where he drew pointing sketches, diagrams and ideas. I used to read the newspaper during the peak hour train to New York, like almost all the 'commuters', and when I looked at him his was writing or drawing. And when he showed me some pages, I appreciated the clarity and firmness of his sketches and drawings or the fantasy of what he imagined. He was also an expert photographer but in the train he never used his small camera - digitals didn't exist yet - and preferred to think and to graphically illustrate his ideas.

Rest in peace.