ÑH7 [2010] SUMMIT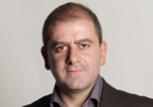 'Cold fusion' in Valencia's summit
Benjamín Lana has been named editorial director of Vocento Regional Media. The previous director of Innovation is thus placed in front of the area that encompasses the twelve regional newspapers that make up the group, which has just been redesigned in its entirety. The title of his lecture at the Congress NH7 will be 'Cold fusion'.
Born in Zalla (Vizcaya) 42 years ago and Bachelor of Information Sciences, Lana accumulated experience of more than two decades devoted to journalism and the development of new publishing projects. Began very early in the Basque public radio and was editor of one of the first projects of local press that swept Spain in the early nineties.

His experience in print media is credited with his work in national headers such El Mundo, or regionals such El Diario Vasco, El Correo and El Comercio. In this last newspaper he became deputy director and editor of information.

After providing his services in these three newspapers of Vocento Lana moved to Madrid in late 2007 to become director of Editorial Development and Innovation, an area framed in the Editorial Direction of Regional Media, which he is now the director.
List of speakers:
Jaime Serra
Jared Cocken
Ramón Salaverría
Vincent Termote
Rodrigo Sánchez
José Manuel Pérez Paadín